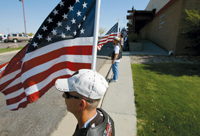 Jon Perkins of Cheyenne stands with an American flag with the 'Patriot Guard' in front of the Highland Park Community Church during a memorial service for Capt. Bruce Hays on Thursday afternoon in Casper. Hays was the first Wyoming National Guard soldier to be killed in Afghanistan. Photo by Dan Cepeda, Star-Tribune.
Casper - 10/02/2008
Captain Bruce Hays
Memorial service remembers Hays as family man, leader

watch video
By JASA SANTOS
Star-Tribune staff writer
Thursday, October 2, 2008 9:44 PM MDT
The men who served and worked with Capt. Bruce Hays remember the soldier as a dedicated family man, a loving husband and a great leader.
Hays, 42, was honored at a memorial service Thursday afternoon at Highland Community Park Church in Casper. He is the first Wyoming National Guard soldier killed in Afghanistan, the fifth killed while in service during the Global War on Terrorism, and the 27th military service member with Wyoming ties killed during the war.
Hays was assigned to an Embedded Training Team to work with Afghanistan forces as a police mentoring team chief. He died of wounds suffered when their vehicle encountered an improvised explosive device in Gerdia Seria, Afghanistan.
A letter from Lt. Col. Raymond M. Kent was read at the service and said that Hays was family man admired by his fellow soldiers.
"Bruce would keep us up at night in the barracks as he talked and played chess with his 10-year-old daughter Bethany over the wireless Internet and webcam," Kent wrote.
After playing chess, Hays would smile at the webcam and talk to his youngest daughter, Eleanor, and his wife, Terri, before signing off for the night. Hays used the webcam at the same time every evening, and usually spent an hour or more chatting with his family.
"No one complained though," Kent wrote. "Bruce was so genuine and real with his love for his family, we all just kept quiet so as not to disturb the magic that was going on.
"He may be gone physically from us now," Kent wrote, "but I know 15 soldiers in Afghanistan that will never forget him."
Col. Greg Porter, chief of staff for the Army and Air Guard, worked with Hays for five years. Porter's emotions at the service ranged from sadness to pride, he said.
"[Pride] that our country is capable of producing a soldier of that caliber," Porter said. "He was a great soldier, and a great leader. We'll miss him very much."
Porter's voice caught in his throat and his eyes teared up slightly as he continued to talk about his friend. Hays served his country because he felt it was a higher cause, Porter said.
"We have an expression -- move to the sound," Porter said. "And that's something he liked. He liked working with soldiers.
"He touched a lot of people across the state."
Stan Lowe, commander of American Legion Post 2 in Casper, said he came to the service to honor a fellow soldier, and his family and friends.
"I felt I needed to be here," Lowe said.
"We never let a fallen warrior go alone," said Don Neville, an officer with the Disabled American Veterans of Wyoming. "I didn't know Capt. Hays, but he was a brother, he was a warrior, and he was a leader."
Near the end of the service, Master Sgt. James Shreve called Last Role Call. Soldiers dutifully answered as Shreve shouted their names.
"Captain Hays."
Silence.
"Captain Bruce Hays."
A stillness filled the room.
"Captain Bruce Evan Hays."
The service ended. Hays' wife was presented with flags and Chaplain Todd Wolf gave the closing comments.
In silence, Hays' fellow soldiers and friends -- one by one -- stepped forward and saluted their fallen comrade's helmet and rifle.
Contact reporter Jasa Santos at (307) 266-0593 or Jasa.Santos@trib.com
---
Cheyenne - 9/22/2008
Neighbors Mourn The Loss Of Capt. Bruce Hays

watch video
Wyoming Army National Guard Captain Bruce Hays was killed last week by an improvised explosive device in Afghanistan.

Now his former neighbors are remembering the man, and rallying behind his family with a touching tribute.

You can literally see the hundreds of flags put up in this neighborhood to honor their neighbor, who has now become the fifth Wyoming Army National Guard Solider to die in the Global War on Terror.

Jeanette and Edward VanDorn have lived next door to Captain Bruce Hays and his family for seven years, and in that time got to know the family well.

Captain Hays, a 17-year veteran of the military was killed by an IED blast in Afghanistan September 17-th.

Now residents, and a Boy Scout troop have lined the street Hays lived on with American flags.

A fitting memorial for a man residents here loved as one of their own, respected as a man, and now morn, after Captain Bruce Hays paid the ultimate sacrifice.

Hays arrived in Afghanistan late last month and was assigned to an embedded training team charged with training police forces.

Hays becomes first Wyoming National Guard solider killed in Afghanistan ,fifth killed in the Global War on Terror, and 27-th military member with Wyoming ties to die fighting terrorism.